spotted: Quentin Blake in Cambridge
Quentin Blake is most definitely one of my alltime favourite illustrators. As a child I devoured all Roald Dahl's books. I feel this is not only Dahl's merit. Blake's drawings are essential to Roald Dahl's colourful stories. I truly admire how he is able to grasp a character with only a few strokes.
A few years back I watched a documentary about him. I wish I hadn't… It ruined the magic in a way. (If you're a big Quentin Blake fan too and you don't want to risk ruining the magic then don't watch the video below and stop reading.)
[youtube=http://www.youtube.com/watch?feature=player_embedded&v=qCHoUZHcK9Q#!]
I'd always loved the spontaneousness of his drawings, little did I know … Blake says to do 'a freewheeling sort of drawing that looks as though it is done on the spur of the moment. However even a single drawing needs a certain amount of preparation and planning'. I have to admit his lightbox technique is really genius, and actually I often use a similar technique. In a way, I'm also glad he shared his working method. In my magic fairytale-version of reality I assumed that this genius drew his drawings with his eyes closed. Now I've learned that also a genius has to put time and effort into his illustrations for them to excel, which is a comfort to a hobbyist like me.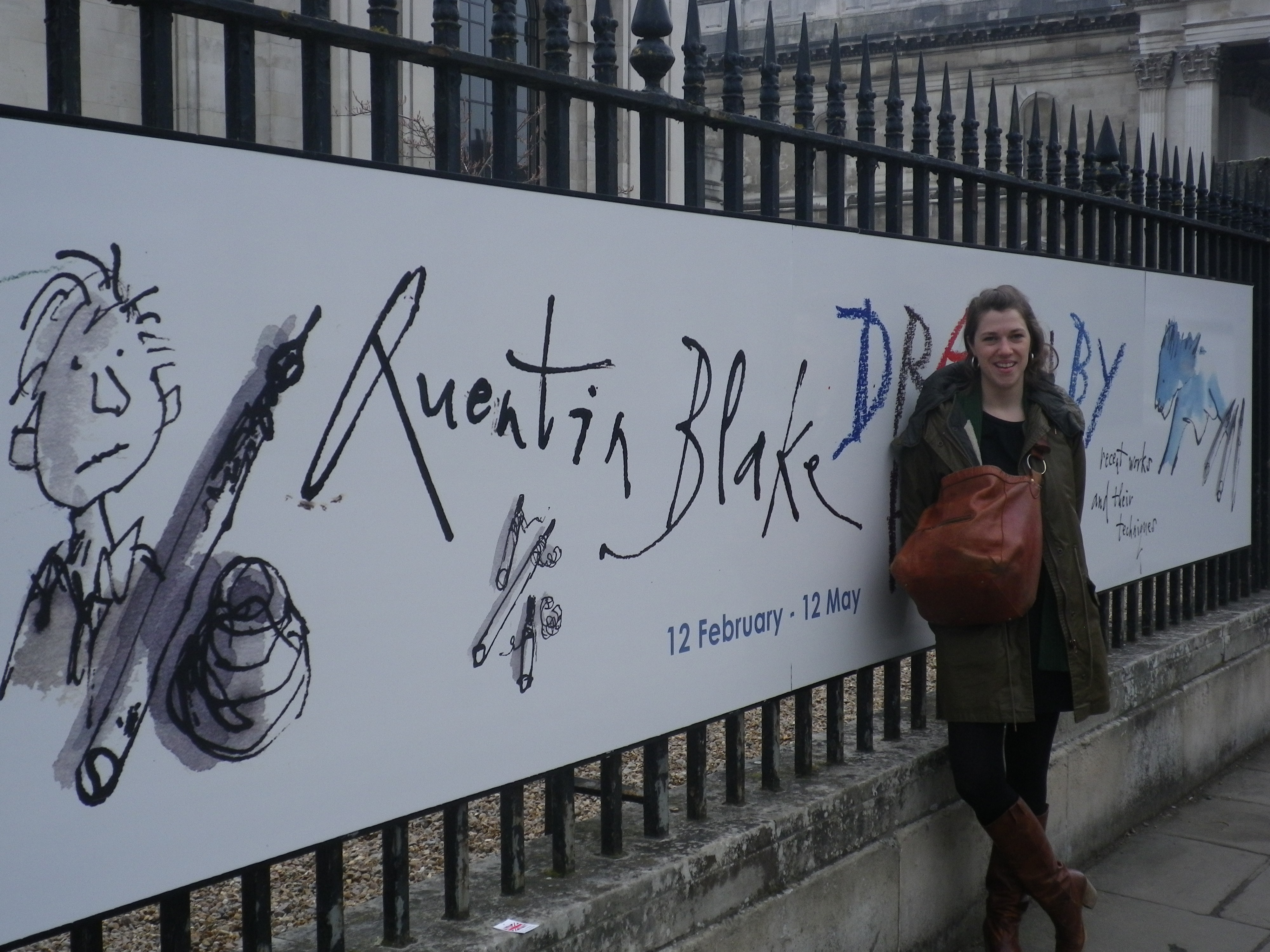 Anyway, I was in Cambridge in April and I couldn't believe my luck. There was an exhibition titled 'Drawn by Hand' that looked at individual works he had produced in the past decade: book illustrations, etchings, lithographs, drawings and works done for hospitals in various and contrasting media. The work was accompanied by a display of pens, brochures, inks, watercolours, quills and other materials from the artists studio. Nele accompanied me, and I don't know about her, but I had a field day.